We have a bay window in our dining area. And if any of you have priced a bay window curtain rod, you know that you pretty much have to take out a second mortgage on your house in order to afford one.  But what if you could MAKE a DIY bay window curtain rod for about $10?  WHAT?  Yes, you can!  and I'm going to show you how easy it is.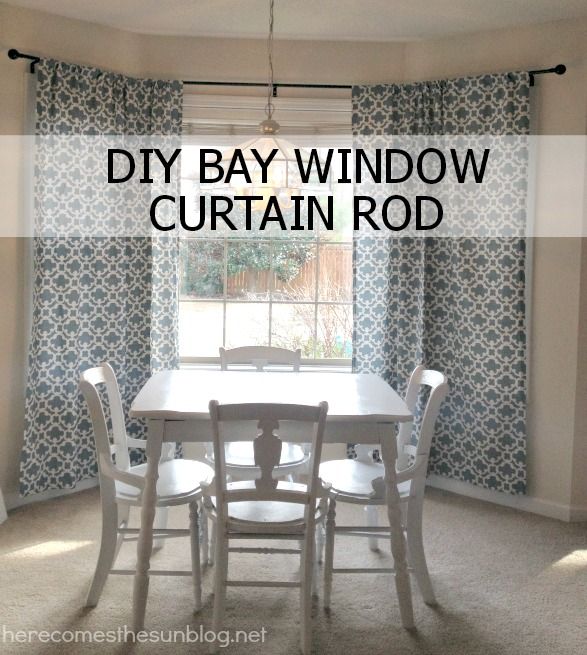 It all started with these amazing curtains. I wanted them in aqua. So I went on the hunt.  I found out that they were sold at Target so I ran over there one day thinking I would pick some up. SOLD OUT.  I called other Targets in nearby towns. SOLD OUT. I thought surely I could order them online. NOPE.  Aqua was… SOLD OUT.  I called my mom who lives 12 hours away to help.  She was able to get a hold of one panel. After months and months of waiting and stalking Target every day that a new shipment came in, I FINALLY got a hold of another panel.  I bought two just in case.
So now my curtains needed a way to hang in my window. Here's how you can make your own DIY bay window curtain rod.
Measure the distance along the wall from the outside of one window casing to the outside of the other casing.  Allow for any overhang that you want.
Purchase this length of metal conduit at your local home improvement store.
Measure from the outside of the casing to the first bend in the wall. Measure this distance from the end of the conduit and place a mark using a Sharpie. Do this for the other end of the conduit also. This is where you will bend your rod.
Make a template out of cardboard, a nail and a clip like in the picture below. Use this template to measure the exact angle of the bend. Adjust it to the correct angle and secure with the clip.
Now to bend the conduit:  you will need help with this.  Have one person hold one end of the conduit on the floor and the other person bend the other end. Use your foot for leverage when you bend it.  Bend it until it matches the angle of your cardboard template.
 Everyone needs a little helper
After you bend your conduit, hang it up to make sure that you have it exactly the way you want it. You may have to do some more bending to adjust it a bit.
After you have your conduit exactly the way you want it, spray paint it to match the other rods in your house, if needed. I spray painted my conduit with Rustoleum Metallic (affiliate link) in Oil Rubbed Bronze  to match the curtain rods in my living room. I LOVE this spray paint! It really covers well, doesn't chip or flake and the metal conduit looks so much like the other "real" curtain rods in my house that you can't even tell the difference.
The hardest part was finding finials to fit the ends of the conduit.  The finials that we had on hand were too small to fit over the conduit but the rod that they were attached to was just the right size to slip INTO the end of the conduit. We simply cut the rod and slid it into the end of the conduit. Sometimes you just have to think outside the box! We did not use anything to permanently secure the finials on because we wanted a way to take the curtains off for washing.
Here is my window before:
And here is my window after:
I think the window looks better all dressed up, don't you? The cost of this DIY bay window curtain rod was less than $10!  A couple bucks for the conduit and about 7 bucks for the spray paint.  We had everything else on hand. But even if you don't have everything else on hand, it is definitely cheaper than purchasing a custom bay window curtain rod. Now I just have to figure out how to revamp that ugly light fixture!
WANT MORE CURTAIN PROJECTS?
The following two tabs change content below.
Kelly
is a mother of two living in coastal North Carolina. Her lifestyle blog, Here Comes the Sun, contains easy crafts, recipes and DIY projects. She enjoys the beach, is a chocolate addict and loves chevron, chalkboards and the Beatles.