I'm so excited about kicking off my Back to School Series this Sunday!  I've got some very talented bloggers who will be sharing all things related to Back to School.  If you would like to spread the word, feel free to grab the button below.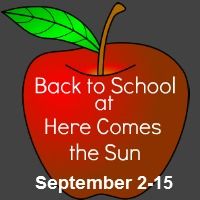 If you missed my post over at Wait Til Your Father Gets Home, I am sharing it here with you today. This is a quick and easy dinner recipe for those hectic nights during the school week.  
I don't know about you but I feel very rushed at the end of the day.  Dinner, homework, bath, and bedtime routine leaves me exhausted.  Not to mention the after school activities.  My daughter has soccer on Wednesday nights until 6 pm.  The last thing I want to do when we get home is to spend a long time cooking dinner.  On nights like these, I like to make my Veggie Quesadillas.
Ingredients
Shredded mexican cheese blend

Recipe
Chop up your veggies 
(you could do this earlier in the day to avoid any prep work at dinner time)
Saute the veggies for a few minutes over medium heat. Do not cook the tomatoes. 
Remove the veggies from the heat.
Spray your pan with cooking spray and place a flour tortilla on the pan.  Place a layer of cheese on the tortilla.
Place your veggies (and tomatoes) on the tortilla and add another layer of cheese.
Place another tortilla on top.
Cook each side a few minutes (until the cheese is melted and the tortilla is browned).
If you want meat with your meal, you can add shredded chicken as well!
I hope you have enjoyed this recipe!
The following two tabs change content below.
Kelly
is a mother of two living in coastal North Carolina. Her lifestyle blog, Here Comes the Sun, contains easy crafts, recipes and DIY projects. She enjoys the beach, is a chocolate addict and loves chevron, chalkboards and the Beatles.